Irresistible Foods For Picky Eaters
Submitted on November 1, 2013
In our junk food society, healthy food choices appear nonexistent. Find out how to make tasty treats for picky eaters.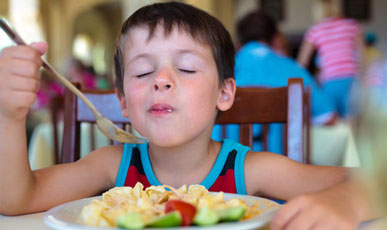 Almost every parent has to handle a picky eater at some time or the other. Even the most disciplined children have been known to turn up their noses at their dinner from time to time. You may spend hours in front of the stove, only to have your adorable little munchkin say "don't want" when you set your culinary masterpiece!
Being a fussy eater is no longer a privilege that only toddlers enjoy. In today's world, it has become quite common to see older children and teens, act picky about their food. Of course, as a parent, the last thing you'd want to do is force-feed your kid. At the same time, you do not want your growing child to miss out on the nutrients that his body needs by allowing him to fill his tummy with junk food. All you need to do is be a little innovative in the way you prepare and present meals to your child. Given below are a few tips on preparing healthy and tasty food items that your kid will find absolutely irresistible –
Burgers: Prepare your child's favorite burger at home, using healthy ingredients and cooking methods. Frozen meat patties are highly processed and full of preservatives. Therefore, it is best if you use fresh minced meat and flavor it with the spices and herbs your kid prefers. Grill the patty instead of frying it and opt for whole wheat bread. Use minimal condiments or skip them completely, if possible. To increase the nutritional value, add lettuce, low-fat cheese and slices of tomato or cucumber. This idea can also be useful when you prepare hotdogs.
Pizzas: For reasons unknown most kids, including toddlers, happen to love pizza. Use a whole wheat base with homemade tomato sauce, as it is free of preservatives and artificial additives. The topping can actually be the best part of your pizza, for both of you. Sprinkle generous amounts of spinach, broccoli, bell peppers, tomatoes, mushrooms, corn, chicken, pineapple, olives and low fat cheese on top of the sauce. Basically, you can add just about anything you like. Identify the toppings that your child enjoys the most and this dish will soon become one of his favorites.
Pasta: When it comes to feeding a child, you can't go wrong with pasta. Many parents believe that pasta contains little nutritional value and therefore avoid it completely. Fortunately, there are several varieties of healthy pasta made from grains like whole wheat, soba (buckwheat), quinoa, rice, spelt or corn easily available. Choose the type of pasta your child prefers and cook it in a homemade sauce. Add fresh vegetables like spinach, bell peppers, broccoli and mushrooms to enhance its taste. Opt for low fat dairy products while cooking.
Baked wedges: It is rare to find a kid who does not love French fries. However, these snacks are very high in calories and contain few nutrients. Offer your child a healthier option that can be made at home quite easily. Cut a potato into 6 to 8 thick triangles. Toss these pieces in some olive oil, herbs and seasoning, before placing them on a greased baking tray. Bake the wedges in an oven for about 30 minutes (10 to 15 minutes each side), or till they are crisp on the outside and tender on the inside.
While these ideas are quite useful in dealing with picky eaters, it is important that you get your kids used to healthy meals like salads, bakes, casseroles and so on. The sooner you inculcate healthy eating habits in your children, the better. Never force them to try anything new, find a way to coax them instead.
Reference:
Tips for dealing with a picky eater. American Heart Association. http://www.heart.org/HEARTORG/GettingHealthy/10-Tips-for-Dealing-With-a-Picky-Eater_UCM_303811_Article.jsp. Accessed May 3, 2011
Cathey M, et al. Picky eating: A toddler's approach to mealtime. Pediatric Nursing. 2004;30:101.